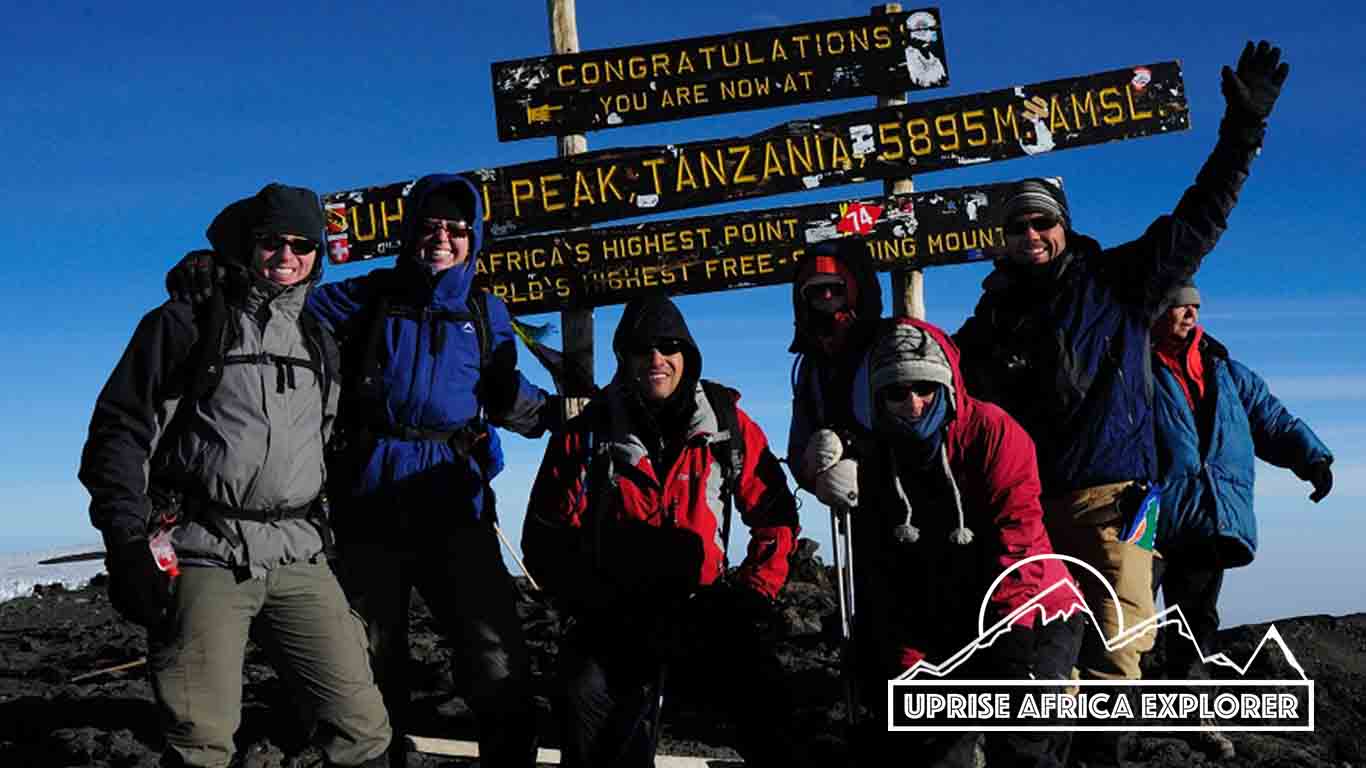 ---
Day 1
Hiking Time: 3-4 hours, 8km/5 miles
We will give a briefing about the details of the trek, our guides will check your trekking gear before we depart. Then the adventure begins with a 1 hour drive to the Kilimanjaro National Park Gate, where we register and start the climb.
At the foot of Kilimanjaro we will walk through the rainforest, where you can see tropical plants and trees, birdlife and colobus monkeys. We will follow the trail and will reach the Mandara encampment within 4 hours. You can take a side trip to Maundi Crater, it's a great viewing point over Northern Tanzania and Kenya. .
Day 2
Hiking Time: 5-6 hours, 12km/7.5 miles
Today we will leave the rainforest behind and follow an ascending path on the open moorland. Here you can enjoy the stunning views of the mountain peaks Mawenzi and the Summit Kibo. This trek will take up to 6 hours and the night will be spend ad the Horombo hut (3720 meter) which is located in a valley with the giant lobelias and grounsels, flora that is characteristic of this semi alpine zone. You may begin to feel the effects of the altitude.
Day 3
Rest day. Optional hike up to zebra rock where you can take pictures and enjoy the view. Then head to Horombo hut for lunch, rest of the day is we get used to the acclimatization.
Day 4
Hiking Time: 5-7 hours, 9km/5.5 miles
While Ascending, we pass the last watering point and moving forwards to the saddle of the Kilimanjaro. Between the peaks of Mawenzi and Kibo, the vegetation is changing into a dessert alpine zone at 4000 meter. This seven our walk will be taken in a slow pace, be careful for the first signs of altitude sickness. We will take our rest and dinner at the Kibo hut, here we prepare ourselves for the summit climb.
Day 5
Hiking Time: 6-8 hours
Up to summit 6 km/4 miles and descent 15km/9 miles down
After midnight around 2 am in the morning , we begin our climb to reach the summit. The beginning of this climb is done in the dark and requires headlamps or flashlights. On a steep and heavy scree with snow we will reach Gilman's point (5861 meter), located on the crater rim. We continuing our trek of 2-4 hours to ascend Uhuru Peak, which is the highest point in Africa. There are unbelievable views take made this climb worth it! Have your picture taken at the summit, this will be a life long lasting memory. From here we descend and stop over for lunch and rest at Kibo hut, before continuing on to the Horombo encampment to overnight.
Day 6
Hiking Time: 4-5 hours, 20km/12.5 miles
After breakfast, a steady descent takes us down through moorland to the Mandara Hut. Continue descending through lush forest path to the National Park gate at Marangu.A vehicle will be waiting for you at Marangu gate to drive you back to your hotel in Moshi. Here all hikers that reach the summit will get an official well-earned certificate!
Includes
High quality mountain sleeping tents
2 Nights accommodation (hotel Panama,Moshi)
Professional, experienced, mountain guides:
All Park fees
Rescue fees
All meals while on the Mountain
Arrival and Departure transfers
Quality Mess tents with table and chairs:
Large portions of fresh, healthy, nutritious food:
Clean, purified drinking water:
Crisis management and safety procedures:
Fair and ethical treatment of porters:
Sleeping Mattress:
Excludes:
Tanzania Visa: $50 / $100 (American residents) per person on arrival at airport
Personal Expenses (e.g. laundry, telephone, beverages, etc.)
Meals not listed above
Optional Tours (short safari after your climb etc)
Tips and any items of personal nature.